100) ? true : false" x-on:click="window.scrollTo(0, 0)" >

ExCeL London
6-8 FEBRUARY 2024
ICE VOX (5-8 FEBRUARY 2024)
Pitch ICE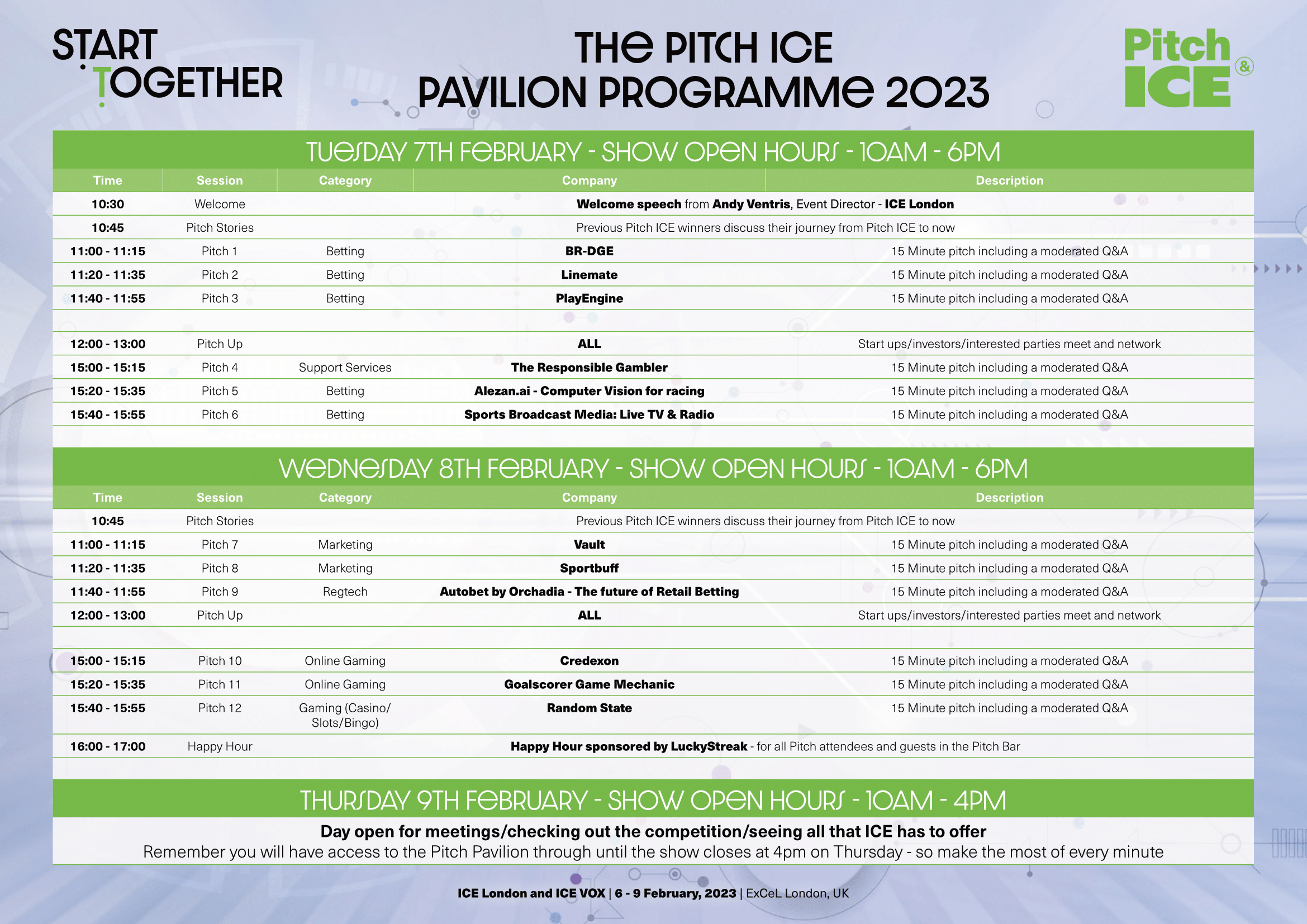 Clarion Gaming has been providing start-ups with a gateway to industry investors and strategic partners since 2009, with international start-up events and competitions taking place at all our events.
Many of our start-ups have secured important investments and acquisition partners following their pitch presentations and participation at what is the largest global gathering of gaming operators in Europe, attended by close to 40,000 visitors over the three days of the event. Hear some of them talk about their successes following Clarion's start-up initiatives below along with some more videos from 2022 below.
At ICE London 2023, the Pitch ICE hub will offer 12 gaming entrepreneurs the opportunity to showcase their companies, solutions and innovative approaches to visitors and keen industry investors.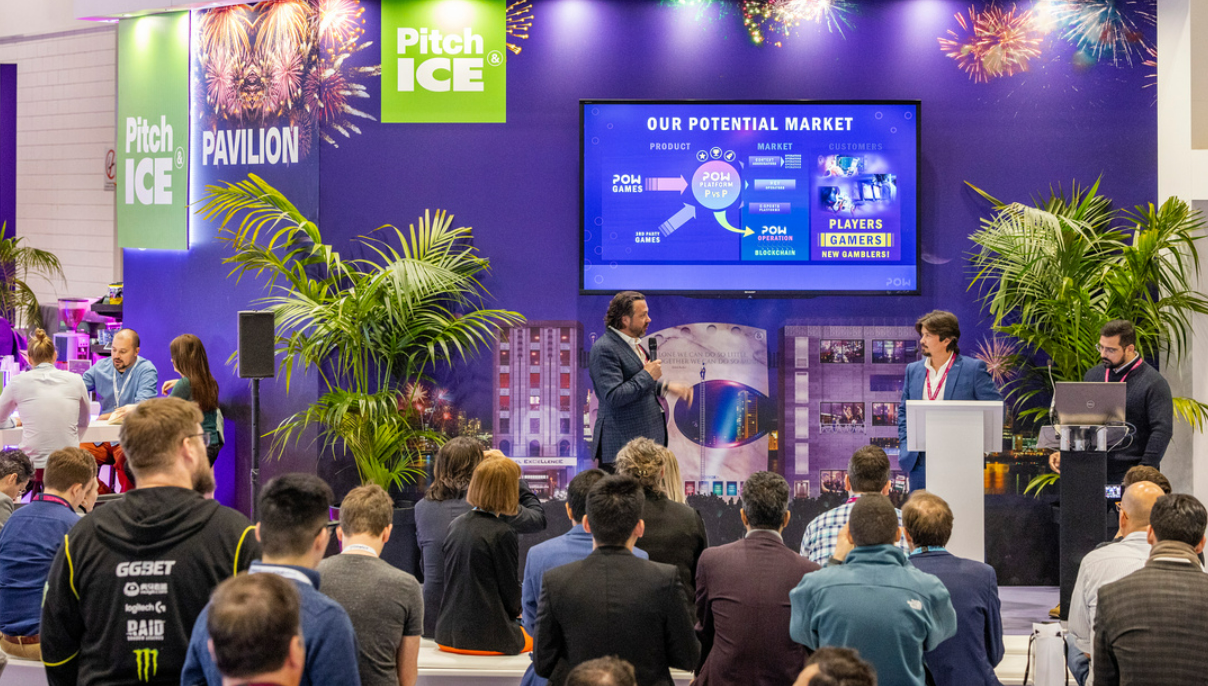 Get Involved
Submitting your entry
Start-up companies who want to be considered for Pitch ICE 2023 can complete their online submission HERE from Thursday 24th November 2022 – submissions are now closed.

The submission form includes a number of questions as well a section to upload a 2-minute pitch video – this video is required for submission; 2022 pitch videos can be found below.
The Judging Process
The public voting process will run from Friday 9th December 2022 until Monday 19th December 2022. Voting is available to the public and is accessed via the same platform as the submission forms. Each individual can cast up to 10 votes for companies they wish to see at Pitch ICE 2023. Once public voting closes, there will be an independent panel of industry professionals who will select up to 14 winners to participate at Pitch ICE 2023. All entrants will be contacted before the end of 2022 to notify them if they have been selected to participate or not. The selection process has now closed.
The Prize
The successful companies are offered a free of charge pod to participate at ICE London on the Pitch ICE Pavilion for the full three days of the show – as well as provided with the opportunity to pitch to potential investors at a time allocated to them on either Tuesday 7th or Wednesday 8th February on the Pitch ICE stage.
PUBLIC VOTING HAS NOW CLOSED! THE WINNERS ARE NOW VIEWABLE BELOW.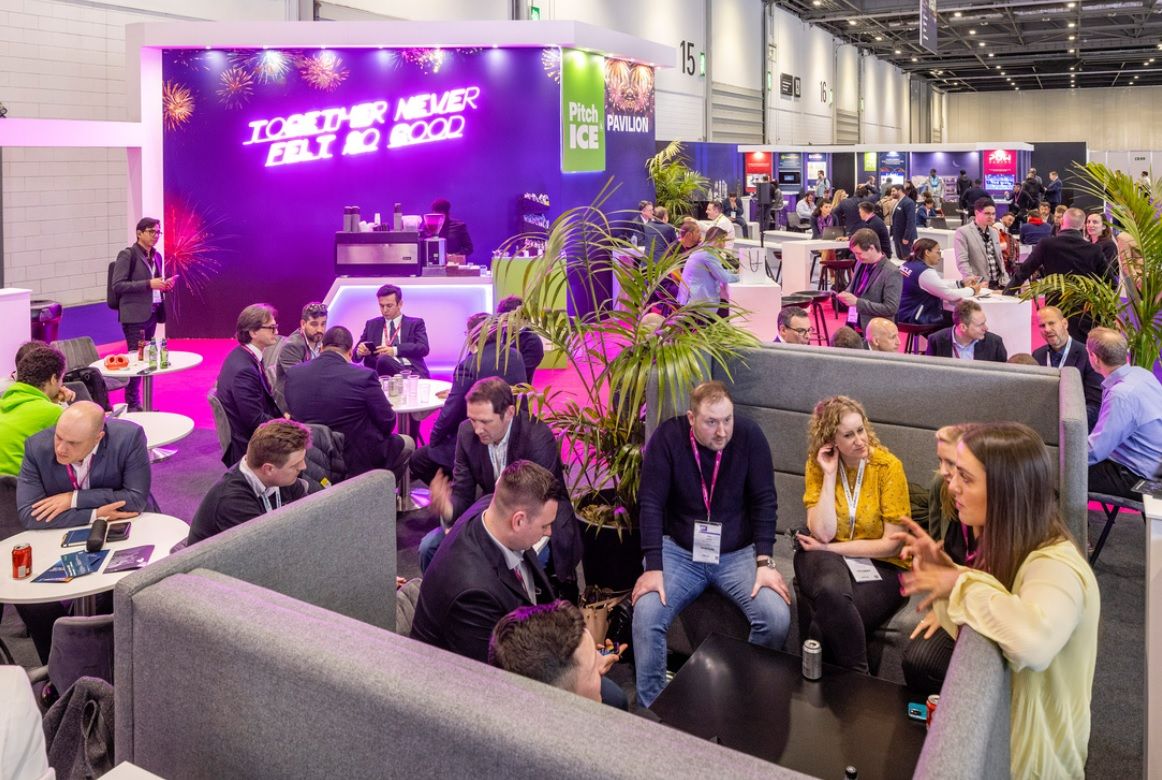 The Fundamentals
This is an opportunity like no other at ICE and we want to make sure that those who are given it, have the best chance of success. As such, all selected Pitch participants will meet the following criteria:
More than just a concept. These are companies that are beyond the 'concept phase'. There must be a demonstrable product and teams should bring a technical as well as a commercial team member to show the company is built on solid technology.

New businesses. Pitch ICE is for new companies and entrepreneurs to gain attention and investment; it is not for established companies to launch new products or even divisions.

Totally committed. The fewer existing commitments you have, and the more you can do to prove you are determined to execute, the better.

Scalable solution. We are looking for entrepreneurs with a unique perspective that are looking to take a scalable business solution to the next level.

English-speaking. While we are looking for solutions and businesses that span the globe, Pitch ICE is an English-speaking event, hence proficiency in the English language is required.

Pitch videos are prepared by all applicants and can be seen below.
ELEVATING START-UPS TO DRIVE INNOVATION.
Clarion Gaming team and previous entrants discuss what Pitch ICE means to them
Ewa Bakun, Director of Industry Insight talks with gaming investor Evan Hoff
Ewa Bakun, Director of Industry Insight talks with gaming investor Marcel Tobler
Live from the show floor, Andy Marlor is joined by Marcel Tobler of Stadtcasino Baden Group & Jesse Learmonth of the Betting Startups Podcast.
Need more info? Get in touch!
Make sure you visit to see where the future of gaming is going – startups will be exhibiting throughout the three days of the show.
For more information, please contact Andy Ventris, Event Director at andy.ventris@clariongaming.com
For more information about Pitch ICE please register free below: