100) ? true : false" x-on:click="window.scrollTo(0, 0)" >

ExCeL London
6-8 FEBRUARY 2024
ICE VOX (5-8 FEBRUARY 2024)
2023 Partners
Casino City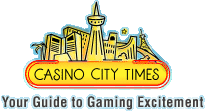 The Casino City website was launched in 1995 as the first casino directory on the web. Over the years, Casino City has grown to become the premier information source for gaming enthusiasts and professionals. Our Casino City directory features detailed profiles of over 3,000 casinos, card rooms, horse tracks dog tracks, casino cruises and cruise ships around the world as well as 2,000 online casinos, poker rooms, sportsbooks, and bingo halls.
To add value for Casino City visitors, we have tightly integrated the Casino City directory with our new CasinoCityTimes.com website to provide the gaming news and strategy content our visitors want to see. Through this coupling, visitors can plan casino trips, find games they'd like to play, and get advice from industry experts on how to play these games before they hit the casino floor.
Casino City is the flagship website of the Casino City Network, which includes an array of websites targeted to individual gaming enthusiasts and to gaming industry professionals.
For the gaming enthusiast, Casino City provides CasinoCity.com, CasinoCityTimes.com, RGTonline.com, and AudioVegas.com. With over a million visitors every month, the Casino City Consumer Network provides gaming enthusiasts with everything from gaming strategy articles, news, and live gaming radio shows to detailed information on every casino and gaming property in the world!
For the gaming professional, Casino City provides CasinoVendors.com, CasinoCityPress.com, and GamingDirectory.com. The Casino City Business Network provides industry insiders with access to gaming business publications, information on gaming executives and suppliers, and advertising opportunities through our own business and consumer networks.